Product Details
The perfect outfit for the diaper league: a sweet baby body in Werder colours. Grabbing even the youngest Werder fans from day 1, the short sleeve onesie is a must-have for parents, who love SV Werder Bremen. The onesie impresses with its printed Werder front motif. The slogan "Lebenslang Grün-Weiß" underlines our notion that you are never too old or too young to be a Werder-fan. Thus, the wearer of the onesie becomes a true Werder fan. The motif consists of the "SV Werder Bremen" lettering including the addition "established 1899" and therefore sets club-related accents. The design is rounded off with a Werder diamond logo print on the sleeve and the colour-contrasting hem makes this onesie a real eye-catcher. It is particularly comfortable for parents, as the snap fasteners in the crotch make it easy to put on and take off the baby. It is a comfortable Werder onesie for everyday use or for representing the club on match days, made of 100% cotton from certified organic cultivation and Fairtrade-certified. In this way, the youngest ones can show their love for the club right from the start and parents know - you can never have enough baby onesies.
Custom Characteristics:
Printed "SV Werder Bremen" lettering including the addition "established 1899" on the front side
Printed Werder diamond logo on sleeve
Contrasting hem
Push buttons at crotch for easy dressing and undressing
NOTES ON SUSTAINABILITY:
In addition, this article has been awarded the GOTS label

, the Global Organic Textile Standard, which is subject to the requirements for ecologically and socially compatible textile production from organically produced raw materials.

Furthermore, all of the Cotton is Fairtrade certified, traded, audited and sourced from Fairtrade producers.

Manufacturer: Brands Fashion GmbH.
You can find more information on these topics at:
You might also like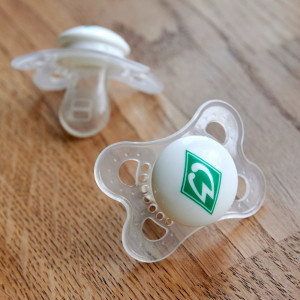 Pacifier 0-6 months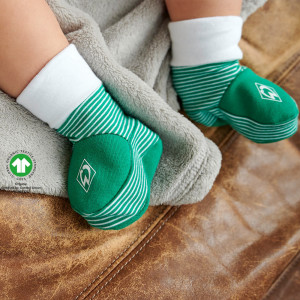 GOTS Babies' Shoes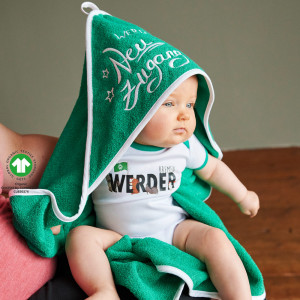 GOTS Baby Hooded Bath Towel