Iron-on patch sleeve sponsor
Iron-on Patch Sleeve sponsor
You would like to know how to apply the ironing patch of our current sleeve sponsor? Then you have come to the right place.
Select your Werder jersey below and follow the steps listed there to apply this professional-quality finish.
Please note: Werder Bremen Fan-Service GmbH does not accept any liability for damage caused by unsuitable or improper handling or use, failure to follow the application and care instructions, changes to the products due to chemical or thermal influences, as well as damage for which Werder Bremen Fan-Service GmbH is not responsible.
Jersey Home 2019/20 Adult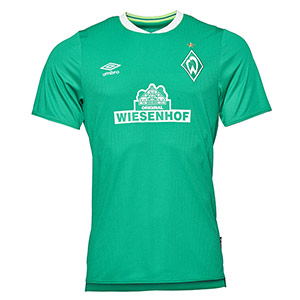 Place the left sleeve of your jersey on a hard, heat-resistant and smooth surface with the shoulder seam facing upwards
Smooth the fabric; no wrinkles/unevenness in the fabric should be visible
Place the iron-on patch 6cm from the bottom of the sleeve. Place the rough, black side on the fabric so that the logo is facing up
Place a thin piece of paper (e.g. baking paper) generously over the sleeve incl. logo and apply constant firm pressure with the iron from above for approx. 20 seconds (Level 2 - Without steam)
Please note: The iron must not be moved. The paper protects the logo and the fabric from the heat
Remove the paper after the process and let the logo cool down well; only then the logo sticks properly to the jersey
After cooling down, you can carefully remove the logo carrier foil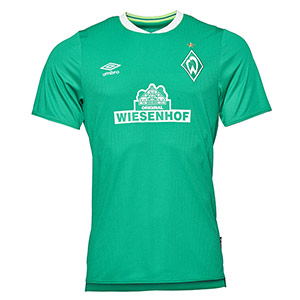 Place the left sleeve of your jersey on a hard, heat-resistant and smooth surface with the shoulder seam facing upwards
Smooth the fabric; no wrinkles/unevenness in the fabric should be visible
Place the iron-on patch 2cm from the bottom of the sleeve. Place the rough, black side on the fabric so that the logo is facing up
Place a thin piece of paper (e.g. baking paper) generously over the sleeve incl. logo and apply constant firm pressure with the iron from above for approx. 20 seconds (Level 2 - Without steam)
Please note: The iron must not be moved. The paper protects the logo and the fabric from the heat
Remove the paper after the process and let the logo cool down well; only then the logo sticks properly to the jersey
After cooling down, you can carefully remove the logo carrier foil
Jersey Away 2019/20 Adult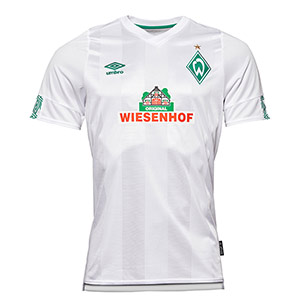 Place the left sleeve of your jersey on a hard, heat-resistant and smooth surface with the shoulder seam facing upwards
Smooth the fabric; no wrinkles/unevenness in the fabric should be visible
Place the iron-on patch 9cm from the bottom of the sleeve. Place the rough, black side on the fabric so that the logo is facing up
Place a thin piece of paper (e.g. baking paper) generously over the sleeve incl. logo and apply constant firm pressure with the iron from above for approx. 20 seconds (Level 2 - Without steam)
Please note: The iron must not be moved. The paper protects the logo and the fabric from the heat
Remove the paper after the process and let the logo cool down well; only then the logo sticks properly to the jersey
After cooling down, you can carefully remove the logo carrier foil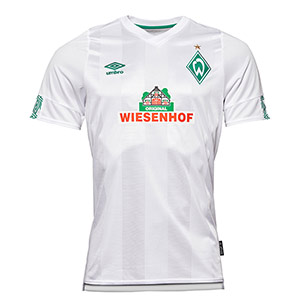 Place the left sleeve of your jersey on a hard, heat-resistant and smooth surface with the shoulder seam facing upwards
Smooth the fabric; no wrinkles/unevenness in the fabric should be visible
Place the iron-on patch 5cm from the bottom of the sleeve. Place the rough, black side on the fabric so that the logo is facing up
Place a thin piece of paper (e.g. baking paper) generously over the sleeve incl. logo and apply constant firm pressure with the iron from above for approx. 20 seconds (Level 2 - Without steam)
Please note: The iron must not be moved. The paper protects the logo and the fabric from the heat
Remove the paper after the process and let the logo cool down well; only then the logo sticks properly to the jersey
After cooling down, you can carefully remove the logo carrier foil
Jersey Event 2019/20 Adult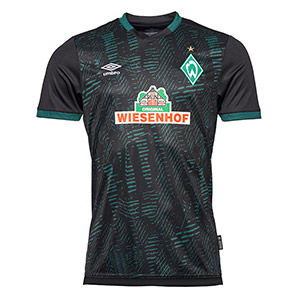 Place the left sleeve of your jersey on a hard, heat-resistant and smooth surface with the shoulder seam facing upwards
Smooth the fabric; no wrinkles/unevenness in the fabric should be visible
Place the iron-on patch 6cm from the bottom of the sleeve. Place the rough, black side on the fabric so that the logo is facing up
Place a thin piece of paper (e.g. baking paper) generously over the sleeve incl. logo and apply constant firm pressure with the iron from above for approx. 20 seconds (Level 2 - Without steam)
Please note: The iron must not be moved. The paper protects the logo and the fabric from the heat
Remove the paper after the process and let the logo cool down well; only then the logo sticks properly to the jersey
After cooling down, you can carefully remove the logo carrier foil
Jersey Event 2019/20 Kids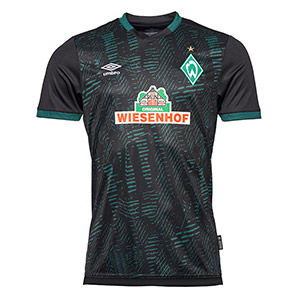 Place the left sleeve of your jersey on a hard, heat-resistant and smooth surface with the shoulder seam facing upwards
Smooth the fabric; no wrinkles/unevenness in the fabric should be visible
Place the iron-on patch 2cm from the bottom of the sleeve. Place the rough, black side on the fabric so that the logo is facing up
Place a thin piece of paper (e.g. baking paper) generously over the sleeve incl. logo and apply constant firm pressure with the iron from above for approx. 20 seconds (Level 2 - Without steam)
Please note: The iron must not be moved. The paper protects the logo and the fabric from the heat
Remove the paper after the process and let the logo cool down well; only then the logo sticks properly to the jersey
After cooling down, you can carefully remove the logo carrier foil
Goalkeeper Jersey 2019/20 Adult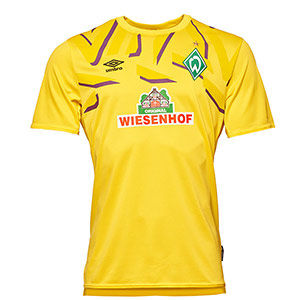 Place the left sleeve of your jersey on a hard, heat-resistant and smooth surface with the shoulder seam facing upwards
Smooth the fabric; no wrinkles/unevenness in the fabric should be visible
Place the iron-on patch 6cm from the bottom of the sleeve. Place the rough, black side on the fabric so that the logo is facing up
Place a thin piece of paper (e.g. baking paper) generously over the sleeve incl. logo and apply constant firm pressure with the iron from above for approx. 20 seconds (Level 2 - Without steam)
Please note: The iron must not be moved. The paper protects the logo and the fabric from the heat
Remove the paper after the process and let the logo cool down well; only then the logo sticks properly to the jersey
After cooling down, you can carefully remove the logo carrier foil
Goalkeeper Jersey 2019/20 Kids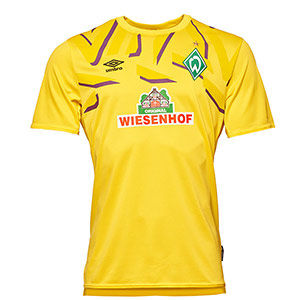 Place the left sleeve of your jersey on a hard, heat-resistant and smooth surface with the shoulder seam facing upwards
Smooth the fabric; no wrinkles/unevenness in the fabric should be visible
Place the iron-on patch 2cm from the bottom of the sleeve. Place the rough, black side on the fabric so that the logo is facing up
Place a thin piece of paper (e.g. baking paper) generously over the sleeve incl. logo and apply constant firm pressure with the iron from above for approx. 20 seconds (Level 2 - Without steam)
Please note: The iron must not be moved. The paper protects the logo and the fabric from the heat
Remove the paper after the process and let the logo cool down well; only then the logo sticks properly to the jersey
After cooling down, you can carefully remove the logo carrier foil