Werder Fan-Mobil on Tour 2019/20 | Werder Fan-Shop
FAN-MOBIL ON TOUR 2019/20
As in the previous season the players will be attended by the WERDER Fan-Mobil this year. Weather training camp, tryout or selected Bundesliga fixtures - the Fan-Mobil is always available with the latest products and some bargains.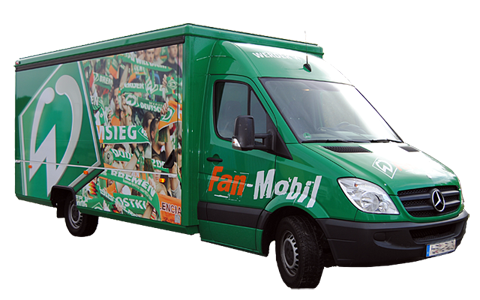 Just in: The new T-Shirt Fan on Tour 2019/20

Please note: It could be that a trip can't be made due to force majeure. Cases of force majeure shall include e.g. traffic jams, defects, decrees from higher authorities, sabotage, war, stikes and lockouts, natural disasters, geological changes and effects.
next Dates:
Date: 26.07 - 02.08
Event: trainingcamp in Grassau
Place: trainingground of ASV Grassau, Grassau
Fan-Mobil around: at every public trainings and friendly matches

The dates will be currently updated, subject to changes.