Product Details
Leaves a sustainable impression. The result of the next collaboration between SV Werder Bremen, Umbro and Glückstreter: The Highway WB. A unisex model that will be the envy of every Werder fan. You should also be quick, because the Werder edition of the Highway sneaker is a limited edition.
The trainers with their green colour accents impress everyone with their cool look. The shoe tongue is also in the Werder style: the outside or front in the club colours of green and white.
Small details refine the tongues: The logo of our outfitter Umbro including lettering can be found on the outsides. Inside, there is an impression of our wohninvest WESERSTADION on one side and a diamond graphic on the other. This graphic stands for the special connection between Werder, its fans and the Hanseatic City of Bremen, because: Werder and Bremen, they simply belong together.

This connection is made clear by the Bremen key on the left heel. This image is complemented by the right heel, which features our Werder diamond. Below this, there is a white "Umbro" lettering on each shoe.
This self-evident relationship is completed by the words "Werder" and "Bremen", respectively on the left and right outer side of the shoes.
Special detail: the words "Glücks" on the right and "Treter" on the left side as lace tags. Immortalised here is the local sneaker store "Glückstreter", located just a few minutes' walk away from the Osterdeich.

The colour of the sole is also connected to this: kept in natural colours, it represents the colour of the floors of Bremen's iconic art nouveau houses and accordingly also the floor in the Glückstreter store. In addition, the shoe is made of 35% recycled material and the use of leather was deliberately avoided.

The shoelaces provide further exciting touches of colour. A total of five different pairs are included and make this Werder sneaker complete.
Whether as a collector's item or as a daily leisure shoe: the Highway WB sneakers accompany you wherever you go. This way, you can show that you're not only fully behind your favourite club with your heart, but also with your shoes.
Custom Characteristics:
White sneaker with green colour accents
limited to a few pieces

Shoe tongue:

outside or front: green with Umbro logo & lettering

inside- resp. backside:

left foot: impression wohninvest WESERSTADION
right foot: diamond graphic

five different colour variations for the laces
Bremen key and Werder diamond on one heel each

underneath tonal "Umbro" lettering

black lace tags with "Glücks" and "Treter" lettering
"Werder" (left) & "Bremen" (right) on the outsides
natural coloured sole
complementary material details:

PU upper made from 45% recycled post-consumer waste.
100% recycled post-consumer waste laces
outsole made of natural rubber (90%) and recycled rubber (10%)
insole made from 97% recycled E.V.A.

Available exclusively online
You might also like
Hipbag Canvasco Diamond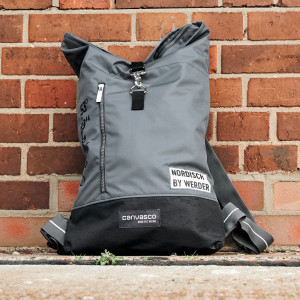 Pocket Canvasco coordinates