GOTS IC T-Shirt Werder Bremen
Product Details
Lifelong Green-White. With the fashionable GOTS IC T-shirt you can easily represent your favorite club everywhere and are also well dressed at the same time.
The stylish shirt in anthracite convinces with its simple, yet high-quality design. It sets subtle green and white accents without being obtrusive. On the front of the shirt are two decorative seams and a breast pocket with embroidered Werder diamond logo. Below the breast pocket is a white "Werder Bremen" lettering along with the founding year of SV Werder Bremen. They symbolize the connection to the SVW and show for which club your heart beats. Another diamond, this time in tonal optics below the collar as well as the woven label with the "Werder by Nature" lettering on the back at the hem round off the successful fan-oriented design.
Simply a casual basic top for everyday life, which can be super combined with other garments.
Despite its simplicity, this shirt shows everyone that you are part of the Werder family. So it's easy to show your love for the SVW. #greenfriday
Custom Characteristics:
NOTES ON SUSTAINABILITY
This article is certified with the Global Organic Textile Standard in Conversion (short: GOTS IC), which guarantees an environmentally friendly and socially responsible production of textiles. The conversion to controlled organic cultivation is supported and the articles marked with GOTS IC contain a minimum of 95% cotton in conversion.
This product wears the label "Grüner Knopf". This means: high social and ecological standards. Set by the state and controlled by independent auditors. Brands Fashion GmbH bears the product responsibility for this "Grüner Knopf" certified article.
Furthermore, all of the Cotton is Fairtrade certified, traded, audited and sourced from Fairtrade producers. Manufacturer: Brands Fashion GmbH.
In addition, Tracycle creates transparency about the origin and manufacturing as well as the entire supply chain of this product.
For more information on these topics, please visit:
two decorative seams on the front
breast pocket with embroidered Werder diamond logo
below breast pocket: "Werder Bremen" lettering with founding year
below the collar a tonal diamond
woven label "Werder by Nature" lettering on the back hem
You might also like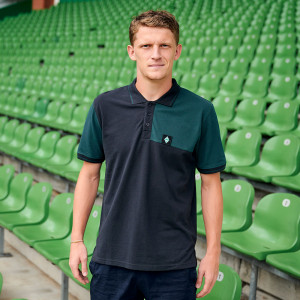 GOTS IC polo shirt diamond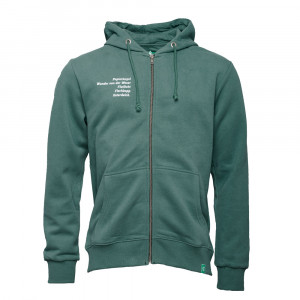 Sweat jacket paper ball