GOTS IC polo shirt diamond
Product Details
Cool Werder styles. The GOTS IC Polo Shirt is the ideal garment to show your love for the club in everyday life. This guarantees you a fan-tastic appearance!
The shirt impresses with its high-quality and club-like look. The Werder diamond is therefore of course also present on the shirt. It is located on the left (heart) side as a woven label and shows directly that your heart beats for the SV Werder Bremen. The polo shirt is kept in anthracite. A real highlight is the green contrasting back area and the green contrasting sleeves. This makes the shirt something very special. The woven label with the "Werder by Nature" lettering on the back at the hem complete the Werder look of the shirt.
The perfect addition to any SV Werder Bremen fan collection and must-have for every green and white closet. Despite its subtle look, this polo shirt shows everyone that you are part of the Werder family. So it's easy to show your love for the SVW.
Custom Characteristics:
NOTES ON SUSTAINABILITY
This article is certified with the Global Organic Textile Standard in Conversion (short: GOTS IC), which guarantees an environmentally friendly and socially responsible production of textiles. The conversion to controlled organic cultivation is supported and the articles marked with GOTS IC contain a minimum of 95% cotton in conversion.
This product wears the label "Grüner Knopf". This means: high social and ecological standards. Set by the state and controlled by independent auditors. Brands Fashion GmbH bears the product responsibility for this "Grüner Knopf" certified article.
Furthermore, all of the Cotton is Fairtrade certified, traded, audited and sourced from Fairtrade producers. Manufacturer: Brands Fashion GmbH.
In addition, Tracycle creates transparency about the origin and manufacturing as well as the entire supply chain of this product.
For more information on these topics, please visit:
Werder diamond logo as a woven label on the left (heart) side
sleeves and back area are set off in green
Weblabel "Werder by Nature" lettering on the back at the hemline
You might also like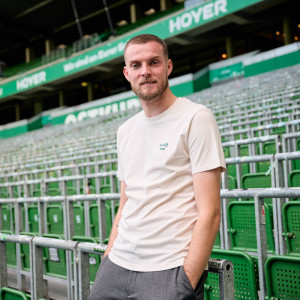 Fish head t-shirt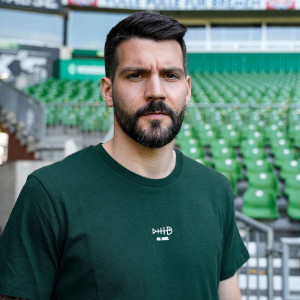 T-shirt fish head green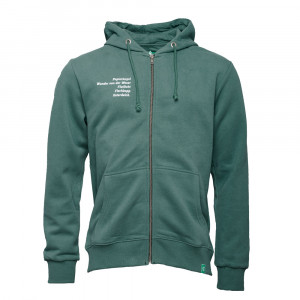 Sweat jacket paper ball