GOTS Baby Body Weserbomber
Product Details
The perfect outfit for the diaper league. Cute baby bodysuit with "Weser Bomber" print in Werder design on the front.
The short-sleeved bodysuit convinces all little Werder fans from day 1 and is the must-have for SV Werder Bremen parents. The lettering brings a special feature, because: The "o" of the motif is replaced by soccer and thus creates soccer feeling. In addition, the lettering is decorated with maritime details such as a seagull and a fish. The Werder diamond logo on the left sleeve provides club-related accents. The hem set off in the club color green makes this bodysuit a real eye-catcher. It is especially comfortable and convenient for parents, because the press studs in the crotch make it easy to put on and take off.
Comfortable Werder bodysuit for everyday wear or to show the flag on game days. So the offspring shows his love for the club from the beginning. Parents know - you can never have enough baby bodysuits.
Custom Characteristics:
NOTES ON SUSTAINABILITY:
This product wears the label "Grüner Knopf". This means: high social and ecological standards. Set by the state and controlled by independent auditors. Brands Fashion GmbH bears the product responsibility for this "Grüner Knopf" certified article.
In addition, this article has been awarded the GOTS label, the Global Organic Textile Standard, which is subject to the requirements for ecologically and socially compatible textile production from organically produced raw materials.
Furthermore, all of the Cotton is Fairtrade certified, traded, audited and sourced from Fairtrade producers. Manufacturer: Brands Fashion GmbH.
You can find more information on these topics at:
"Weser Bomber" lettering on the front side

with maritime details
football as "o" replacement in the lettering as a print

Werder diamond logo on the left sleeve
practical press studs for easy on and off
in the club color green set off hemline
You might also like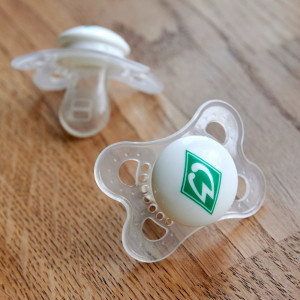 Pacifier 0-6 months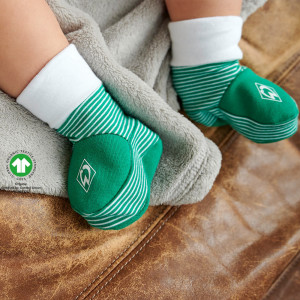 GOTS Babies' Shoes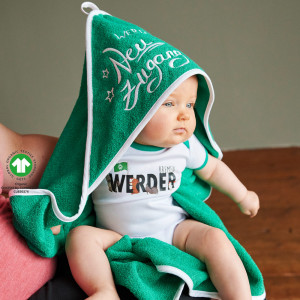 GOTS Baby Hooded Bath Towel